The International Buddhist Meditation Center
in Los Angeles was founded in 1970 by Ven. Dr. Thich Thien-An, a scholar and Zen Master from Vietnam. He came to the United States as a visiting professor at UCLA, and at the urging of his students, founded the Center to provide a place for them to practice meditation and the Buddhist Path.
When Dr. Thien-An died in 1980, Ven. Dr. Karuna Dharma, one of the founders of the Center, became the Abbess. Under her direction the I.B.M.C. Staff continue the Center's activities. I.B.M.C. was one of four original Zen centers founded in the United States to promote meditation and Buddhism in English to interested Americans.

I.B.M.C. has a long history of ordaining Westerners as bhikshus, bhikshunis and dharma teachers. At the Grand Ordination held in December, 1994 the Center had a full ordination ceremony presided over by Ven. Karuna Dharma, Ven. Havanpola Ratanasara and invited Asian masters. In 2004 I.B.M.C. had another Grand Ordination - Photo Album. At the present time I.B.M.C. is not training or ordaining new monks, nuns or dharma teachers at this time.
I.B.M.C Ordination
I.B.M.C. Buddhist Monks & Nuns are not allowed to have a wife or husband, girl friend, boy friend, or be in any kind of intimate sexual relationship. The I.B.M.C. monks and nuns follow the traditional Mahayana Buddhist monastic precepts. I.B.M.C. Dharma Teachers may have a husband or wife, boy friend, girl friend or fiance/fiancee and work full time. The I.B.M.C. Dharma Teacher's follow 25 precepts created by Ven. Thich Thien-An for men and women who wanted to practice and teach the Dharma, but are not able to hold the precepts of a fully ordained monk or nun. I.B.M.C. offers a 5 precept Buddhist layperson ceremony to interested men and women on Vesak, the full moon day of May.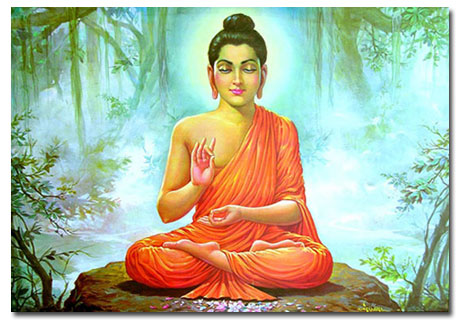 Meditation Times @ I.B.M.C.

Wednesday - 7:30 til 8:30 PM
Friday - 7:30 til 8:30 PM
Sunday - 7:30 til 8:30 PM
--- --- ---


"We updated the official IBMC - Facebook Page" -- www.facebook.com/IBMCLA
Sunday Service @ IBMC

11:00 - 12:00 / Dharma Talk & Meditation

IBMC Events
11 AM - 12 Noon - "Sunday Dharma Talk & Meditation"
Zendo Etiquette
Dress comfortable, with loose fitting clothing that is comfortable enough to allow sitting cross legged on the floor. Shoulders, knees, covered. No bare midriffs, or low cut shirt fronts. Chairs are available for those who do not want to sit on the floor. You are welcome to bring your own zafu or zabuton for sitting.
---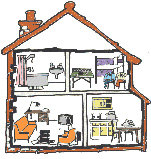 IBMC has Rooms for Rent
Available... Rooms with shared Kitchen and Bath
Contact IBMC for more info / 213-384-0850
---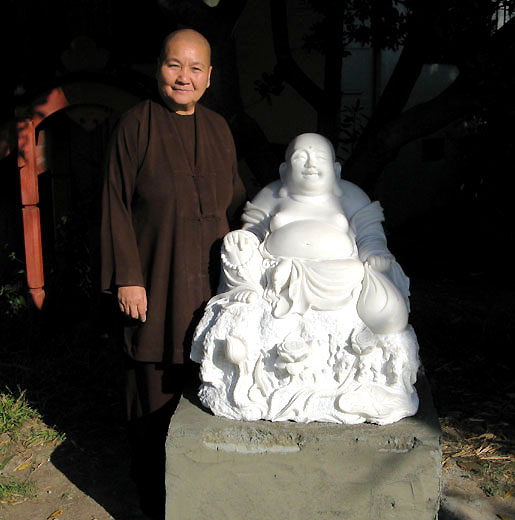 The Happy Buddha at the IBMC April, 2011 / Donated by Ven. Dieu Dao
---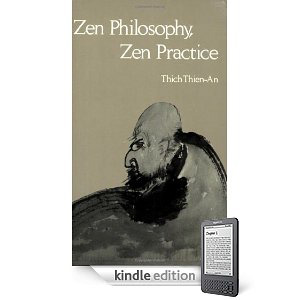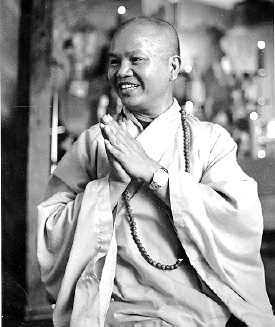 Kindle edition - 'Zen Philosophy, Zen Practice' - Click Here
Thich Thien-An presents the two dynamic aspects of Zen - its philosophy and its way of life. He traces the history of Zen within the general context of Buddhist thought, then focuses on the essential union of theory and practice, sitting and action, wisdom and compassion.

For the beginning student, Zen Philosophy, Zen Practice offers a concise and through grounding in Zen theory and technique. For the advanced student, its simplicity and clarity of style removes the mystery surrounding many interpretations of Zen and deepens understanding of how to apply Zen practice in daily life. Each of the fourteen chapters fully describes a specific meditation practice, ranging from relatively simple to more complex techniques, as taught by the various traditions of Zen Buddhism.

Dr.Thich Tien-An, author of Buddhism and Zen in Vietnam, was one of Vietnam's most influential modern scholars and religious leaders.
Amazon.com Customer - A little known gem in a sea of literature referring to zen buddhism. A book i find myself referring back to more often than any other i own. The first time i read it i gained more insight into the history of zen, where it was coming from, and the people it arrived through. Most importantly at the end of every chapter is a method of practicing zazen. This, along with the stress on practicing zen principles in daily life is why i would highly recommend this book to the beginning zen practitioner.
___ ___ ___ ___ ___


Dr. Thien-An's book, Zen Philosophy, Zen Practice, is an excellent
introduction to the spiritual orientation of the founder.
--- --- ---