___An introduction to Buddhism___
"A Beginners Guide to Buddhism from Urban Dharma"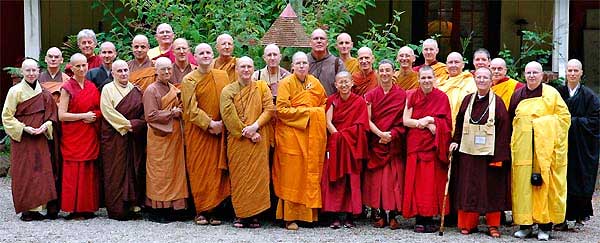 - The 10th Western Monastic Conference @ The Land of Medicine Buddha - September 2004 -


___Articles of Interest___

Life of the Buddha
... Narada Mahathera...

The Five Precepts
... Dr. Sunthorn Plamintr...

Chanting in Buddhism
... Bhikkhu Dhammasami...

Mindfulness in Plain English
---A Guide to Buddhist Meditation---
...Ven. Henepola Gunaratana...

Buddhism and Vegetarianism
...Compiled by Binh Anson...

Do Buddhists Believe in God?
...Kusala Bhikshu...

Do Buddhists Go to Heaven?
...Kusala Bhikshu...

The Problem With Sex in Buddhism
...Kusala Bhikshu...

A Buddhist Approach to Health Care
Kusala Bhikshu

The Buddhist Concept of Impermanence
...hinduwebsite.com...

The Buddhist Holidays
...BuddhaNet.net...

A Buddhist Timeline
...History of Buddhism...

Finding a Buddhist Center, Temple, and Teacher
...Some Suggestions on Centers, and Teacher Ratings...

______


Suggested Reading
...Buddhist Books of Interest...

How I Became a Buddhist
...Kusala Bhikshu...

Dharma Talks in MP3 - Kusala Bhikshu
...Free Download...



---

Free eBooks
(Read online or free download)




The Four Noble Truths (254 KB)


The Four Noble Truths — Ven. Ajahn Sumedho.

The Four Noble Truths are the central Teaching of the Buddha. This booklet was compiled and edited from talks given by Venerable Ajahn Sumedho on the teaching of the Buddha: that the unhappiness of humanity can be overcome through spiritual means. The teaching is conveyed through the Buddha's Four Noble Truths, first expounded in 528 BC in the Deer Park at Sarnath near Varanasi and kept alive in the Buddhist world ever since.


The Nobel Eightfold Path (192 KB)


The Noble Eightfold Path — by Bhikkhu Bodhi

One of the best explanations of the Eightfold path in print today... The present booklet aims at contributing towards a proper understanding of the Noble Eightfold Path by investigating its eight factors and their components to determine exactly what they involve. Bhikkhu Bodhi is concise, using as the framework for his exposition the Buddha's own words in explanation of the path factors, as found in the Sutta Pitaka of the Pali Canon.


Women in Buddhism - Question & Answers (795 KB)


Women in Buddhism - Question & Answers — by Ven. Chatsumarn Kabilsingh Ph.D.

Ven. Chatsumarn Kabilsingh provides answers to questions often asked about women and the ordination issue and related topics. She responds to such questions as: In the Buddha's time what role did women play in Buddhism? Why cannot women become buddhas? What is the Buddhist attitude towards prostitution? What is an attitude of a Buddhist towards abortion? What is the unique characteristic in American Buddhism which might interest a feminist?
* More Free Buddhist --> e-Books