Inner truths
...Brian Alterowitz...
Very little about Buddhism is universal. There are as many different paths of Buddhism as there are branches of Christianity, each with its own take on what is true. For example, some practitioners of Vipassanna don't consider what they practice a religion, or even call themselves Buddhists.
Seeing the Essence
...Susan Van Dongen...
One of the central ideas in Buddhism is that life is a classroom and the main subject is suffering. As much as we don't like it, without these challenges we don't gain the wisdom to graduate to the next level of consciousness.
An Interview with Bhikkhu Boddhi
...June 20, 2001...
I was born in NYC in 1944, my civilian name was Jeffrey Block, and my parents were a middle class Jewish family living in Brooklyn.
An Interview with Thanissaro Bhikkhu
...A Question of Skill...
The route was a lot less roundabout than you might think. Like many college students, I was obsessed with deciding what to do with my life. Business, government, academia: I couldn't see myself finding happiness in any of them. I didn't want to lie on my deathbed, looking back at a life frittered away. Fortunately, in my sophomore year, I was introduced to Buddhist meditation, and I took to it like a duck to water.
Rainbow Dharma
...For people of color?- Choyin Rangdrol...
Experience for yourself whether your local Dharma center or organization represents the diversity of America. If a particular racial group is dominant at the center or organization ask yourself, "What would be the experience of someone not represented by this group, if they were to come here?", "What would someone not from the majority group have to do to fit in?".
American Buddhism
...A Bibliography on Buddhist Traditions...
During the past two decades, research on Buddhism in North America has expanded tremendously. This bibliography is meant to serve as a preliminary guide to the main scholarly accounts on the history, development and state of affairs of Buddhism in the U.S.A. and Canada.
The Legacy of our Children
...Judith Simmer-Brown...
My topic is Buddhism in the 21st century, the legacy we are leaving our children. My first concern is a housekeeping concern. Have we set the American Buddhist house in order? Specifically, if our children wish to continue the traditions of Buddhist practice, what are we doing to make that possible?
The Worldliness of Buddhism
...Donald K. Swearer...
Despite Buddhism's growing presence in the West, most Americans still badly misunderstand this ancient world religion. The leaders of Philadelphia's Thai community were rudely reminded of this unpleasant fact during the 1980s when they set out to buy land for a Buddhist temple and monastery not far from the City of Brotherly Love.
Buddhism Comes to Main Street
...Jan Nattier...
Buddhism is big news in America these days. Whether through a New York Times article carrying the Dalai Lama's latest remarks or a CNN spot on a political fund-raising scandal at a Taiwanese branch temple in Los Angeles, whether by seeing Bernardo Bertolucci's Little Buddha or following Tina Turner's life story in What's Love Got to Do With It?, Americans have become more aware than ever before of something called "Buddhism."
The Dharma Has Come West
... Martin Baumann...
Buddhism's dramatic growth in Western countries, observable for about the past three decades, has been accompanied by an increased number of Buddhist books and scholarly studies. Whereas the former publications focus mainly on personal experiences and religious expositions given by Buddhist practitioners, the latter historically describe and sociologically analyze developments of the transplantation and adaptation of Buddhist traditions in Western countries.
Online NewsHour...Teaching Religion
MONK (Rev. Kusala): Then you have the human world, that's where we are... BETTY ANN BOWSER: This comparative religion class at a suburban Los Angeles public high school recently had a lesson on Buddhism taught by a monk.
Online NewsHour Forum...Teaching Religion
Schools across America are talking about religion. But the question many educators are asking is not about prayer in the classroom, but about religion as curriculum.
9th Western Buddhist Monastic Conference
...Photos - Oct. 2003...
This year the host was Vajrapani Institute, situated in Boulder Creek, California. Our monastic conferences originally started for Western monastics to gather together and spend time learning about each other's work and practices in the West as well providing an opportunity for us to be rejuvenated in a monastic setting. In this same spirit, this conference was open to monastics from all Buddhist traditions and cultures, but is particularly for monastics born or raised in the West, who follow traditional vows, which include observing celibac
Photos from the 7th Western Monastic Conference
...October, 2001- City of 10,000 Buddhas...
Report on the 7th, 6th, & 4th
Western Monastic Conference...
The theme of the October 2001 conference was Monastic Training. The presentation topics were Upholding the monastic tradition in the West - What are the essentials?, Adaptation to the West, Transforming Worldly People into Monastics, Heart of the Life, and Where are we Going? These discussions provided opportunities to broaden our understanding of the topics and expand our capacity to work within our own communities and gain greater appreciation and understanding of other communities in these areas...

...Women in Buddhism...
Women in Buddhism
...Rev. Patti Nakai...
If anyone wanted to present Buddhism as a viciously sexist religion, they could easily do so by quoting out of context passages from numerous sutras or from more recent texts such as Shinran's wasan (poems) or the by-laws of the Shinshu Otani-ha (Higashi Honganji's denomination) which denies female clergy the same status as male priests. But I believe the essential spirit of Buddhism absolutely includes all beings, male and female, in its vision of enlightenment. If I did not believe in that then I would not want to be a part of this religious tradition. In this intermittent series, I hope to make it clear that women have always been involved in Buddhist history and that their role has been very crucial even if often overlooked.
Women in Early Buddhist Texts
...Dr. Bimala Churn Law...
An account of some famous women who figure prominently in the early Buddhist texts is given in the following pages. The account will show that women were not a negligible factor in the ancient Buddhist community of India.
Inspiration from Enlightened Nuns
...Susan Elbaum Jootla...
The ancient commentaries give us information about each nun's background and also explain the poems themselves. Two major themes of relevance to contemporary students of the Dhamma run through these stories: (1) the immeasurably long time that we have all been lost in samsara, the round of birth and death; and (2) the working of the impersonal law of kammic cause and effect which brought these women into contact with the Buddha's teachings in what was to be their final lifetime.
The Position of Women in Buddhism
...Dr. (Mrs.) L.S. Dewaraja...
Today, when the role of Women in Society is an issue of worldwide interest it is opportune that we should pause to look at it from a Buddhist perspective. In the recent past, a number of books have been written on the changing status of women in Hindu and Islamic societies, but with regard to women in Buddhism, ever since the distinguished Pali scholar, Miss I.B. Horner, wrote her book on Women under Primitive Buddhism, as far back as 1930, very little interest has been taken in the subject.
Buddhist Women at the Time of The Buddha
...Hellmuth Hecker...
At the time of the Buddha, a daughter was born to the foreman of the guild of garland-makers in Savatthi. She was beautiful, clever and well behaved and a source of joy to her father... One day, when she had just turned sixteen, she went to the public flower gardens with her girl-friends and took three portions of fermented rice along in her basket as the day's sustenance.
Four American Dharma Teachers
...Interviewed by The Shambhala Sun...
Sharon Salzberg, Barbara Rhodes, Judith Simmer-Brown & Pat O'Hara on what it means to be a woman dharma teacher and how they'd like to see Buddhism in America evolve.
Ordination of Women
...Ajahn Brahmavamso...
To become a bhikkhuni a woman had to begin by asking for 'ordination' as a sikkhamana (meaning a woman in training) before an assembly of at least 5 bhikkhunis. Her training consisted of 6 rules: the Five Precepts, the third of which being extended to complete celibacy, plus abstaining from eating outside of the morning time. Only when she had kept these six rules UNBROKEN FOR TWO YEARS could she, with the permission of her parents and husband, take higher ordination as a bhikkhuni.

...Special Interest...
The Sick and Terminally Ill
...Lily de Silva...
"He who attends on the sick attends on me," declared the Buddha, exhorting his disciples on the importance of ministering to the sick. This famous statement was made by the Blessed One when he discovered a monk lying in his soiled robes, desperately ill with an acute attack of dysentery. With the help of Ananda, the Buddha washed and cleaned the sick monk in warm water.
For the Aged and the Sick
...Ven. Thich Thanh Tu...
Today, my talk is especially addressed to the sick and old persons. The reason for this talk is that there was a Buddhist layperson who came and asked if I could give a small Dharma talk to his parents who were old and dying - and because he wanted his parents to be alert, clear-minded when the time came.
Zen Hospice... Being of Service
...Frank Ostasesk...
Frank Ostaseski is the Founding Director of the Zen Hospice Project, a nationally recognized programme of conscious care for the dying in San Francisco. Inspired by the 2,500-year-old Buddhist tradition of contemplating sickness, old age and death, the Zen Hospice Project encourages and supports a mutually beneficial relationship between volunteer caregivers and individuals facing death. This innovative model of conscious care provides a spectrum of collaborative volunteer programmes, residential care, and training which aim at cultivating wisdom and compassion through service. Founded in 1987, the Zen Hospice Project is the oldest and largest Buddhist hospice in America.
Buddhist Reflections on Death
...Ven. V. F. Gunaratana...
To the average man death is by no means a pleasant subject or talk for discussion. It is something dismal and oppressive -- a veritable kill-joy, a fit topic for a funeral house only. The average man immersed as he is in the self, ever seeking after the pleasurable, ever pursuing that which excites and gratifies the senses, refuses to pause and ponder seriously that these very objects of pleasure and gratification will some day reach their end.
Investigation for Insight
...Susan Elbaum Jootla...
All the teachings of the Buddha had one goal -- the elimination of all suffering, all grief, misery, pain and anguish. All the kinds of meditation he explained were designed to train the mind of the student to become detached from all the phenomena of the world, within and outside of himself. This is the aim of Buddhist meditation because detachment is the opposite of tanha or craving and it is this tanha that is the source of all the sorts of suffering experienced by sentient beings.
Teacher of the Devas
...Susan Elbaum Jootla...
Many religious leaders consider themselves prophets whose authority stems from an Almighty God, but as our epithet implies, the Buddha's relationship to divinity was very different. He instructed deities, as well as humans, on how to end all suffering (dukkha) by eradicating ignorance and other unwholesome states. The gods came to the Buddha to request instruction and clarification, to support his Sasana or Dispensation, to praise his incomparable qualities, and to pay homage at his feet. Devas and brahmas are often mentioned throughout the Pali Canon.
Going forth: A call to Buddhist Monkhood
...Sumana Samanera...
The essay that forms the first part of this booklet, bears in its German original the title Pabbajja which, in Pali, the language of the Buddhist texts, means Going forth, namely from the household life to the homelessness of a Buddhist monk.
The Meaning of the Buddha's Awakening
...Thanissaro Bhikkhu...
The two crucial aspects of the Buddha's Awakening are the what and the how: what he awakened to and how he did it. His awakening is special in that the two aspects come together. He awakened to the fact that there is an undying happiness, and that it can be attained through human effort.
Benedict's Dharma 2
...A Buddhist/Christian - Benedictine Experience...
Sr. Mary Margaret Funk, OSB, Kusala Bhikshu, and Mr. Karl Peterson, guide 40 participants through a week-long retreat on the "Rule of St. Benedict."

...Food for Thought...
Buddhism and the Morality of Abortion
...Michael G. Barnhart...
It is quite clear from a variety of sources that abortion has been severely disapproved of in the Buddhist tradition. It is also equally clear that abortion has been tolerated in Buddhist Japan and accommodated under exceptional circumstances by some modern Buddhists in the U.S.
Are There "Human Rights" in Buddhism
...Damien Keown...
Political events in the course of this century, however, have forced the issue of human rights to the top of the agenda. [5] The Chinese invasion of Tibet, the bitter ethnic conflict in Sri Lanka, and the experience of military dictatorship in countries such as Burma have all provided contemporary Buddhism with first-hand experience of the issues at stake.
Attitudes to Euthanasia in the Vinaya and Commentary
... Damien Keown...
The prohibition on taking human life is one of the cornerstones of Buddhist ethics, but there is often confusion about the interpretation of this prohibition in different contexts. In his commentary on the third paaraajika in the Samantapaasaadikaa, Buddhaghosa sets out to clarify the legal provisions of the monastic precept against taking life. The root text and his comments on it are relevant to the contemporary debate on euthanasia, and this paper considers what light Buddhist jurisprudence can shed on this moral dilemma.
...Buddhism and Economics...
Buddhist Economics
...Phrabhavanaviriyakhun...
Buddhists often tend to disregard economics completely, because the monastic way of life idealized by Buddhism is economically very minimalist. Such neglect of comment concerning economic values is not warranted, however, because the Buddhist scriptures are in fact rich with advice from the Buddha regarding sound economic values -- and they are applicable to monastic and lay lifestyles alike.
Economic Stability in Buddhism
...Ven. M. Pannasha Maha Nayaka Thera...
In recent times many books have been written on the subject of economics and economic theory, all of them either from the Capitalist or Socialist point of view. Neither of these systems pays attention to, nor considers the inner development of man as an important factor in the growth of society. Hence there has been a rapid deterioration in human values and standards of behaviour in all classes of society.
Economics as if People Mattered
...E.F. Schumacher...
The Buddhist point of view takes the function of work to be at least threefold: to give man a chance to utilise and develop his faculties; to enable him to overcome his ego-centredness by joining with other people in a common task; and to bring forth goods and services needed for a becoming existence.
Buddhist Economics: A Middle Way
...Bhikkhu P. A. Payutto...
In this small volume, Venerable Dhammapitaka (P. A. Payutto) offers a Buddhist perspective on the subject of economics. While not seeking to present a comprehensive Buddhist economic theory, he provides many tools for reflection, ways of looking at economic questions based on a considered appreciation of the way things are, the way we are.
Protestant vs Buddhist Economics: 'A Critical Look'
...John Dwyer...
In "Buddhist Economics", for example, E.F. Schumacher tries to show us that Buddhism offers an alternative spiritual approach that could help not only the advanced nations but also those nations that are confronting scientific and technological development in an effort to improve the conditions of life in poor regions.


...Buddhism and Social Action...
Violence and Disruption in Society
...Elizabeth J. Harris...
In this study, I define violence as that which harms, debases, dehumanizes or brutalizes human beings, animals or the natural world; and the violent person, as one who causes harm in speech or action, either directly or indirectly, or whose mind is filled with such thoughts. [2] The approach will be scriptural, and the resource I use will be the Pali texts.
A Buddhist Vision of Social Justice
...Sungtaek Cho...
Because of its emphasis on individual salvation, Buddhism is often seen as a quietist religion that fails to consider societal problems. This is, of course, a gross exaggeration. Mahayana Buddhism is bodhisattva ideal, Pure Land doctrine, and Maitreyanism, which often appeared in China in times of political instability, both reach past the individual to relate Buddhist soteriology to society as a whole.
___ ___ ___

The Top "20" Religions in the US
Adherents.com: National & World Religion Statistics - Church Statistics - World Religion

The 9th Western Buddhist Monastic Conference With presentations and discussions on: SUFFERING & TRANSFORMATION Vajrapani Institute, Boulder Creek, California - October 6-10, 2003 - Photo Album: The 9th Western Buddhist Monastic Conference 2003
The 11th Western Buddhist Monastic Conference (September, 2005) - (See Photo Album) gathered at Shasta Abbey in California, the theme this year - Monastic Practice.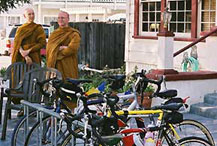 While that may not have been the Buddha himself people saw cycling past them down North State Street this past Sunday, it may well have been the spirit of the Buddha. On bikes decorated with multicolored prayer flags flapping in the wind, 60 riders, supported by more than 20 volunteers, came together for a unique two-day event.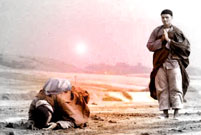 Three Steps, One Bow for Peace

Two American Buddhist monks on a journey of a lifetime, from downtown Los Angeles
to the City of Ten Thousand Buddhas in Talamage,California. A journey of more
than 800 miles thattook two years and nine months to complete.

Excerpts - Three Steps, One Bow Journals // Three Steps and a Bow - Photo Album


-------------------------------

3 Steps and a Bow -- Peace Trek -- May, 2004
In this same spirit of peace we (University Buddhist Association at UCLA and friends) commemorated their efforts on Saturday May 8th by walking 14 miles in their footsteps from the International Buddhist Meditation Center along Wilshire Blvd. to the campus of UCLA - at Sunset Canyon.


UrbanDharma © 2013