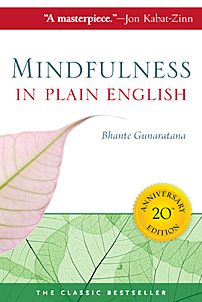 A PDF preview / excerpt from the 20th edition - Click Here


Special Offer - 20% Off the latest edition / The 20th Anniversary Edition - eBook or paperback / See Below

"Mindfulness in Plain English" has been on UrbanDharma.org a while now for free download, but the edition I posted years ago was the first edition and is now rather dated.
Over the last few months I have been in contact with the publisher at Wisdom Publications about M.I.P.E... I have come to understand any money that would have gone to Wisdom Publications (a non-profit publisher of Buddhist books) and the author Ven. Henepola Gunaratana to support his Buddhist Center the Bhavana Society, is forever lost.
I think supporting both Wisdom Publications and Ven. Henepola Gunaratana is important to Buddhism in America. Dana / Generosity is the first of the Buddhist perfections... Free is good, but supporting a non-profit publisher of Buddhist books and a Buddhist Center is better... Please give this a mindful moment. The old (online) version is below, but Wisdom Publications is offering 20% off the latest edition through UrbanDharma.org and the link below.

" Wisdom Publications and UrbanDharma.org have joined forces to offer a 20% discount code - UDMIP- on the
New Edition of "Mindfulness in Plain English" which can be applied to both the 'paperback and eBook'
version at check out, on the Wisdom Publications website... See link below..."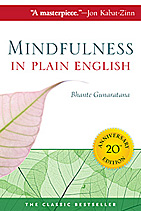 Buy from Wisdom Publications and get a 20% discount - Click Here - Apply UDMIP at Check Out.

Peace... Rev. Kusala / UrbanDharma.org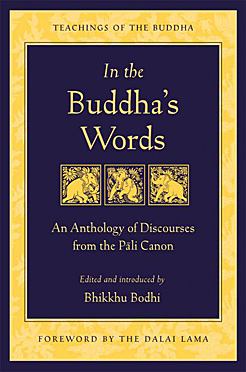 A 41 page PDF preview of "In the Buddha's Words / Click Here
In a special arrangement with Wisdom Publications, Urban Dharma can now offer a discount code for 15% off the
Print and eBook editions of "In the Buddha's Words" / Code - UDIBW - Click Here - Apply UDIBW at Check Out.
This collection is a wonderful introduction to the Buddha's teachings—in his own words. The American scholar-monk Bhikkhu Bodhi, whose voluminous translations have won widespread acclaim, here presents selected discourses of the Buddha from the Pali Canon, the earliest record of what the Buddha taught. Divided into ten thematic chapters, In the Buddha's Words reveals the full scope of the Buddha's teachings, from family life and marriage to renunciation and the path of insight. A concise, informative introduction precedes each chapter, guiding the reader toward a deeper understanding of the texts that follow.