A 2016 Buddhist Wall Calendar
Forest Sangha Publications is dedicated to the free distribution of teachings
in the Theravada Buddhist tradition of Venerable Ajahn Chah.

(A Printable PDF - 14 MB)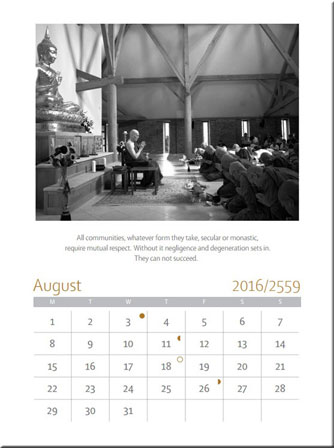 Click Here - Free Download

This calendar has been sponsored for free distribution
by the Kataññnutā group of Malaysia, Singapore and Australia.

Many friends and supporters generously made their photographs available for Sangha publications.

This 2016 calendar includes: Bhikkhu Cāgino (Jan.), Bhikkhu Paññasāro (Aug.),
Phil Reid (Nov.), Gary Morrison (Dec.), and several others of whose names we are not aware. Anumodanā.
Cover: 'Asking for forgiveness.' Detail from a temple mural
painted by Khun Pang Chinasai, Aruna Ratanagiri Buddhist Monastery, UK

Monthly Dhamma quotes are adapted from transcribed and translated teachings contained in
The Collected Teachings of Ajahn Chah, available for download at the link below.

http://forestsanghapublications.org


LUNAR OBSERVANCE DAYS

The dates of the major full moon days and other lunar observance days
are available as printable year planners and other means at:
www.forestsangha.org/moondays

THE MAJOR FULL MOON DAYS

Māgha Pūjā · ('Sangha Day')
Commemorates the spontaneous gathering of 1250 arahants to whom
the Buddha gave an exhortation on the basis of the Discipline (Ovāda Pāṭimokkha).

Vesākha Pūjā · ('Buddha Day')
Commemorates the birth, enlightenment and passing away of the Buddha.

ĀsāIhā Pūjā · ('Dhamma Day')
Commemorates the Buddha's first discourse, given to the five samaṇas in the Deer Park at
Sarnath, near Varanasi. The traditional Rainy-Season Retreat (Vassa) begins on the next day.

Pavāranā Day
This marks the end of the three-month Vassa retreat. During the following month,
lay people may offer the Kathina robe as part of a general alms-giving ceremony.

www.forestsangha.org
www.forestsanghapublications.org
Calendar production by Aruno Publications,
Aruna Ratanagiri Buddhist Monastery, UK



*** *** *** *** ***


2015 Buddhist Calendar / Free Download
www.forestsangha.org
www.forestsanghapublications.org
Calendar production by Aruna Publications,
Aruna Ratanagiri Buddhist Monastery, www.ratanagiri.org.uk
© Aruna Publications 2014


*** *** *** *** ***