Kusala Bhikshu - Video / Audio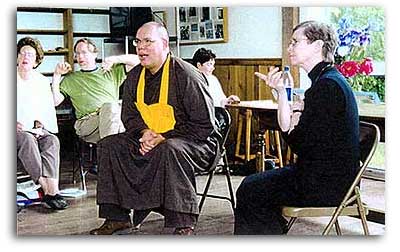 Rev. Kusala and Sister Meg




---
Rev. Kusala on Meditation / You Tube Video - 4 min
My interview with Lissa Coffey for Coffey Talk - 12/2007

1. A Video Interview with Rev. Kusala Bhikshu on his work and practice. Rev. Kusala's interview was filmed at the International Buddhist Meditation Center in March, 2006 by Magic Bell Productions for "The Buddhist Way of Life," a weekly *TV program on Buddhism. In Part 1 - Kusala talks on why and how he came to practice Buddhism and his views on the future of Buddhism in America. In Part 2 - Kusala plays some blues harmonica, talks about being a volunteer police chaplain, going to the Orange County Coroner's office and the Buddhist goal of Nirvana. - *BukkyoDendoKyokai©2006
YouTube Video / Kusala Interview / Part 1 - Watch Movie
YouTube Video / Kusala Interview / Part 2 - Watch Movie
2. Benedict's Dharma II - In Historic New Harmony, Indiana - A Five Day Retreat - April 29 to May 3, 2003 - A Buddhist/Christian Dialogue on the 'Rule of Saint Benedict'... This 10 min film clip feature's Rev. Kusala Bhikshu and Sister Mary Margaret Funk, OSB. This clip is from the "Benedictine Journey: Listening with the ear of the heart"... (Available on DVD or VHS © The Friends of St. Benedict)... Also See -- Benedict's Dharma II
YouTube Video / Kusala & Sister Meg in New Harmony - Watch Movie
3. Rev. Kusala's 1998 TV Appearance... In July of 1998 Kusala was contacted by the Vibe TV Show with Sinbad, because of an article in the LA Times on his work in Juvenile hall. In this video clip Rev. Kusala is interviewed by Sinbad and plays his harmonica with the Vibe TV Show band... The opening shot is Kusala riding up to the stage door on his motorcycle.
Kusala on Vibe 1998 - Watch Movie


---

Free Download / MP4 / Video Files
MP4 Video files - are playable on most portable media players (MP4 players) such as:
iPod, Archos AV500, Archos AV700, Archos Gmini402, iRiver PMP-100, Creative Zen Vision, PSP, etc...

- To Download MP4 files -
Windows - Right click the link and choose: "Save Target/Link/file to Desktop"
Mac - Press down the control key & apple key, click the link and choose:
"Download Linked File" - (Opens with Quicktime and iTunes)
(Caution - Large File Sizes)